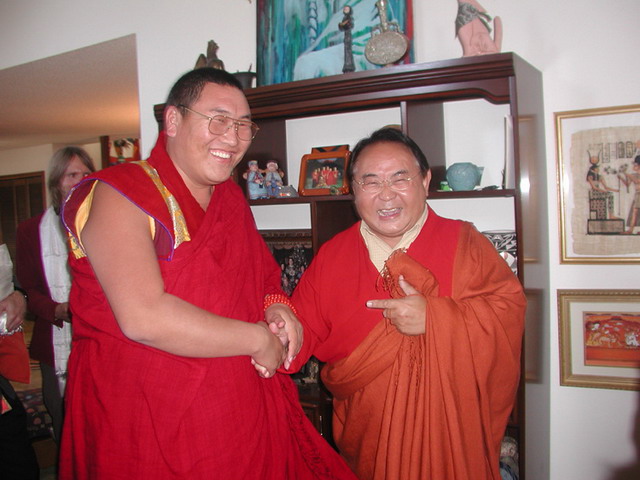 BRIEFING document ON SOGYAL RINPOCHE 5th symphony

(part.1)

Posted on February 3, 2010 by dialogueireland



BRIEFING document ON SOGYAL RINPOCHE

The renowned Tibetan Buddhist teacher Sogyal Rinpoche, whose organisation Rigpa runs various groups throughout Ireland (See ) and indeed elsewhere around the world. Sogyal's book, 'The Tibetan Book of Living and Dying,' has opened innumerable doorways for Rigpa in the field of palliative care and he and his organisation are now prominent players in the burgeoning industry offering help for professionals who shop in the spiritual supermarket in the area surrounding care for the dying: take a look at for instance. Seemingly, Sogyal can do no wrong.

However, there is a darker side to Sogyal, a side that Dialogue Ireland first became aware of some years ago at the London School of Economics' Inform 'Seminar on New Religious Movements (NRMs) and Violence,' held on May 3, 1997. Inform is a New Religious Movements Centre based at the LSE and which was founded by the prominent NRM authority, Professor Eileen Barker. At the conference, a Frenchwoman, who had been Sogyal's assistant for some years offered a most distressing account of the indignities she claimed to have endured at the 'Golden Child's' hands.
Despite his public portrayal as a traditionally trained Buddhist meditation master from the East, Sogyal has spent the majority of his life in a Western cultural context. He was educated primarily in English schools in India then at Delhi University and then, having moved to the UK in the sixties, studied comparative religion at Cambridge for two years (undergraduate courses usually last a minimum of three). His Western education then far exceeds his formal Buddhist training. He is deeply steeped in Western 'cultural' norms, and fully comprehends Western notions of propriety and what constitutes an abusive relationship, for example.
'Rigpa' was born quite early on in Sogyal's Buddhist career in London, after news of his sexual predations and misbehaviour filtered back to the late Dudjom Rinpoche — then head of the Nyingma and one of the world's greatest meditation masters. At that time, Sogyal had dedicated his London centre, Orgyen Choling, to Dudjom, but when the latter heard of Sogyal's misdemeanours, he suggested he give up teaching for a while and return to India to 'ripen his practice'. Sogyal's response was to remove his centre from Dudjom Rinpoche's tutelage and change its name to Rigpa with himself as head, accountable to no-one except himself.
In 1994 the Tibetan Buddhist leader the Dalai Lama hosted a conference for Western Buddhist teachers. One of the items on the agenda was how to deal with the increasing number of charlatans posing as qualified gurus who were using their positions of power to inflict physical and mental abuse on unwitting disciples: a question prompted in part by Sogyal Rinpoche's 'enlightened activities'. The Dalai's advice? 'Criticize openly,' His Holiness declared. 'That's the only way. If there is incontrovertible evidence of wrongdoing, teachers should be confronted with it. They should be allowed to admit their wrongs, make amends, and undergo a rehabilitation process. If a teacher won't respond, students should publish the situation in a newspaper, not omitting the teacher's name, His Holiness said. The fact that the teacher may have done many other good things should not keep us silent. Again, in 2001, when answering a similar question, he advised potential converts to check a guru's qualifications carefully; 'The best thing is,' the Dalai Lama said, 'whenever exploitation, sexual abuse or money abuse happen, make them public.'
There can be little doubt that Rigpa's workshops have brought great benefit to many in the field of palliative care and, moreover, that none of this could have happened without Sogyal Rinpoche's input. However, there are other areas where, metaphorically speaking, his input has proven significantly less satisfactory and so, in accord with the Dalai Lama's instructions and DI's policy of ensuring that the public are fully aware of all aspects of the different religious groups operating in Ireland, below are excerpts from critical pieces that have appeared in the media over the last decade. It is hoped that these will ensure that those with an interest in Rigpa's Buddhism have a fuller knowledge of the group and, more particularly, its leader's background, before they take the decision to become involved. Somehow and thus far, much of the rather disturbing information about Sogyal's exploits has remained hidden, beyond the scrutiny of the public eye. In the interests of balance and the public good, DI is working to rectify this situation by gathering together as much of this information together in one place and then disseminating it.
Probably the most favourable and equally uninformed pieces concerning 'Lama' Sogyal appeared in the Press nearly 10 years ago was written by one of Ireland's most astute political commentators, Eoghan Harris, in the Irish Sunday Times in 2000 ('Time for lreland to See the Light' p.20, July 23). (See full article at end of post.)
The piece waxed lyrical about the Tibetan prophet and could almost have been written by his own professional PR team. Most notably, it mentioned nothing of the multiple allegations of abuse against Sogyal, indeed it appeared that the journalist was unaware of them; it was somewhat reminiscent of those reports by supporters of the Soviet Union following visits, where seemingly, everything in the garden was rosy.
DI contacted the editor of the Sunday Times to point out the discrepancies and contradictions between the public and private faces of Sogyal Rinpoche, an act to which Eoghan Harris took grave and immediate exception. He responded directly, implicitly confirming Sogyal's wrongdoings , but arguing that he had no time for furthering what he called, '…American victim culture, of which weird sexual suits are an integral part…. I do not believe gurus are perfect, nor the women who follow them, do not believe that adults who make messy choices are victims of anybody except themselves, do not believe that adult women (or men) who have consensual sex with a gurus, superiors, bosses, film producers etc are really in the same boat as Cuban refugees who are sexually exploited because they have no real choice, and certainly not in the same boat as rape victims. I have no doubt but that Rinpoche, like many priests, ministers, gurus, comes onto women. But he comes onto adults. It is not nice, but it is not unusual and it has no bearing on the general message of Buddhism, no more than Paisley behaviour can discredit the message of Christianity.'
Adult Ritualised Sexual Abuse: A Contemporary, Western Phenomena?
A consultant to Dialogue Ireland wrote concerning Eoghan Harris's view:
'While all sexual abuse is immoral, it is obvious that the depth of the immorality varies in dependence on the context of the abuse: the abuse of an adult is immoral, but that of a minor is significantly more so. Here, sexual activity at first seems to have occurred between two, consenting adults and, generally speaking, such a consensual act would not be considered immoral; this is certainly how your correspondent Mr Harris appears to perceive it.
However, where a religious figure in a position of trust engages in a sexual act with a follower, that person's status transforms a seemingly consensual act into an abusive one. It is blatant abuse where a person in a position of trust engages in sexual relations with another, both from the perspective of the abuse of power and the abuse of the individual victim.
The status of the teacher too contributes to determining the depth of the abusiveness of the act. If relations occur between a 'mere mortal' teacher and an equally mortal student, that is one thing. But where the teacher is perceived as a 'tantric master', and the act is accompanied by the promise of spiritual benefit, this moves everything to an even deeper level of abusive depravity. Mr Harris appears to have not understood this.
If the multiple allegations are true and were accompanied by promises of a 'tantric experience', or as the Janice Doe suit suggests, victims were told they 'would be strengthened and healed by having sex' with Sogyal, the relations were abusive and ritualized.
It is clear that in groups of all religious traditions, this type of abuse has existed for generations. To be a victim of such then, does not render one part of what Mr Harris mistakenly portrays as contemporary 'American victim culture', though no doubt such a culture exists. Rather it renders one yet another unfortunate victim of that serious and calculated deception that, while as old as the hills, remains as improper and immoral as it has done for the millennia it has existed throughout mankind's different cultures and creeds.
That it has existed for so long however renders it no less immoral. In fact, with religion in the advanced state of decline that it is, this renders the act even more so, for it destroys what little is left of what is good in the world. If the faiths are to survive and assist the spiritually needy, we have a responsibility to rid all of the traditions of those who engage in such selfish and irreligious acts in the name of their faith. Mr Harris may be correct in his assertion that such abuse, '…has no bearing on the general message of Buddhism'. However, it certainly does have a bearing on the purity and future existence of the faith: while it may not destroy 'the message', it damages 'the medium' irreparably.'
This therefore, is no crusade against Buddhism; rather it is a crusade against Sogyal's abuse of his position within that noble religion to procure pleasures for his personal gratification. DI has found the same adult ritualised sexual abuse in Yogic, New Age, Christian and Hindu groups.
'This (abuse) is in large part a result of the naiveté of westerners when it comes to visiting Asian gurus. People who are deeply suspicious of western organized religion suspend all scepticism when it comes to smiling brown-skinned men telling them to let go of their attachments as they slide their hand onto their knee. People in the West are so desperate for spiritual salvation they are prepared to blind themselves to the rogues and charlatans making millions of dollars through the New Age industry in the last 30 years.'
The Politics of Well Being
In 1994, a $10 million civil lawsuit was filed against Sogyal Rinpoche in the US. It was alleged that over a period of many years, Rinpoche had used his position as a spiritual leader to induce large numbers of female students to have sexual intercourse with him. As well as alleging sexual impropriety, the particular complaint included counts of intentionally inflicting emotional distress (as had been the case with the French assistant DI encountered at the LSE Inform conference) plus one count of assault and battery. In December 1995, the issue was settled out of court through mediation. It is believed that, while initially and as a result of the mediation, it was agreed that Sogyal would retire from public life and not teach again, eventually sufficient funds, amounting to several millions of US dollars, were procured to ensure Sogyal's continued liberty to teach.
In his defence, his supporters have repeatedly argued that lamas of Sogyal's Nyingma School are not required to take vows of celibacy and indeed, Sogyal is not a monk. Nor in fact, was the central role model of the school, its founder, Padmasambhava, who had five tantric consorts who were also his students. Moreover, his supporters claim, while there is a precept against sexual misconduct in Buddhism, with respect to a non-monastic lama this precept is rather limited in scope and would apply 'only if the female is not free but rather under the protection of her father, mother, husband, king or herself bound by a vow of celibacy.'
This calculated response however, does not take into account the fact that, a) Sogyal Rinpoche may not possess the same level of tantric realisation of as the 'Second Buddha', Padmasambhava (despite, as we shall see, his claims to the opposite), and b) as well as the above precept, there are further precepts for Buddhist tantric practitioners which prohibit engaging in sexual acts with unqualified partners, precepts which Sogyal's supporters would probably have been well aware of but, for some strange reason, neglected to refer to. While the eighth century milieu of Padmasambhava was primarily a tantric Buddhist one and would therefore have led on occasion to his encountering qualified consorts, it would be highly unusual for so many young and inexperienced Western victims of Sogyal to possess all of the relevant qualifications, particularly as many were new converts to the faith and therefore could not have possessed any of the numerous necessary prerequisite teachings and initiations.
If Sogyal is not a great tantric yogi and had plain old run-of-the-mill sex with these unqualified victims, while at the same time the latter were expecting to be healed by the 'tantric experience' his supposed status promised, then, despite his disciple's protestations, these acts would amount to nothing more than adult ritualised sexual abuse at the hands of a very ordinary, fat and balding, middle aged man with a penchant for beer, food, praise, TV, and sleep. The 10th century Buddhist master Dharmarakshita's 'Peacock in the Poison Grove' demonstrated the traditional Buddhist position on such devious acts:
'For the sake of material gain you assume the guise of a noble one: Like dogs and pigs you indulge in lustful acts, Deceiving all with the claim that this is tantra— You should be burned in a hearth by vajra holders….Those who lead the foolish with no graduated stages of the path should be brought to the level of dogs by the learned ones.'
It is hoped that, in acting in the way he has, Sogyal is actually skilfully leading his female tantric students along the path to enlightenment. If he is, thus far, some have clearly yet to feel the benefit. If he is not then, according to his faith's forefathers, it may be that, sooner rather than later, he finds himself in canine rather than feminine company.
Below are two Press articles about the original Janice Doe case, plus the testimony of an ex-close follower of Sogyal. One would have hoped that the Janice Doe experience would have caused Sogyal to rethink his ways. However, allegations continue to surface concerning his behaviour right down to the present day, as a quick glance at: demonstrates. This site is in French, but has English post as well. We had access to other sites which also allude to Sogyal's activities, but because of their lack of corroboration we must leave out. Far too much hearsay and not enough evidence are adduced.
It should be borne in mind that the fact that millions of dollars were paid to one accuser to silence them is no indication of moral purity or a lack of culpability on the part of Sogyal nor does it absolve him of the crime he allegedly committed; rather, it demonstrates that everyone has their price and that price is certainly one that some are willing to pay to preserve their empires. Moreover, for those whose silence can be bought, it demonstrates that for some, money is clearly more important than truth and preventing the suffering of others.
Finally, those who claim that, just because there is smoke it doesn't mean there is fire, should bear in mind that, when smoke does rise from behind a mountain, there usually is a fire behind it; as they say, 'if it looks like a duck, swims like a duck and quacks like a duck, then it probably is a duck.'


BRIEFING document ON SOGYAL RINPOCHE 5th symphony (part.2)



Schlagwörter: schwarzmagie im tibetischen buddhismus, tibetischer buddhismus und frauen, buddhismus gewalt, buddhismus praktik,buddhismus vergewaltigung, buddhistische ordensregeln, dalai lama,heinrich harrer, ole nydahl, shoko asahara, guru-heiler, rinpoche,ghose, karmapa, lamas, yogi, adi buddha, frauen erlösung wiedergeburt buddhismus, systematische vergewaltigungen von frauen, tantrismus in tibet, tibetischer buddhismus, erleuchtung, lamaismus, tantrismus, hinduismus, sexuelle Missbräuche, trimondi, colin goldner, reinkarnation, buddhismuskritik, yoga, frauenopfer, kalachakra-tantra, shambhala mit buddhokratie, shambhala-krieg, shambhala-mythos,buddhismus weltenherrscher, menschenrechtsverletzungen an Frauen,rituelle frauenopfer, trancetechniken im tantrischen buddhismus,magische praktiken, sexualmagie, beschwörung der geister, tibetisch-tantrischer buddhismus, energieübertragung durch menschenopfer, Schweigegelübde, gynergie, gesetz der umkehrung, einweihungen, ritualmörder, tibetische Schutzgötter, hollywood and tantrischer buddhismus, dalai lama adultery, dalai lama sex, cult leader, behind the facade of tibetan buddhism, sex, violence, abuse, enlightenment,
living Buddha,Hitler,Nazis,Jews,Juden,Israel,Tibetisch Lamaismus